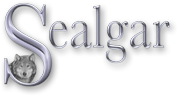 Consultancy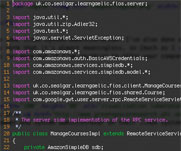 I'm a Java programmer and do some linux system administration. I've also done a small amount of public speaking on IT-related matters (most recently for the IET in Stornoway). But "consultancy" is such a wooly term that it's almost meaningless, so (much as I hate writing about my own work) I've listed some of the projects I've been involved with over the last few years. Hopefully that can help you work out if I've anything to offer your company or organisation.
Greenspace Research

I've been working regularly with Greenspace (a research group set up within the University of the Highlands and Islands) for several years, working as a Java programmer and system administrator on their linux systems. Amongst the many projects worked on was a large-scale visualisation display wall, pictured (with its chief architect, James Morrison).
LearnGaelic

The LearnGaelic website contained elements of coding, and I was involved in constructing the dictionary, thesaurus and map-based database-driven course-finder tools (using the Google Web Toolkit).
Amazon AWS

I've recently become interested in the promise of so-called cloud computing and have implemented auto-scaling, load-balanced websites on the EC2 and S3 infrastructure. I think viewing computing power as an on-demand commodity makes a lot of sense.
The European Language Initiative (TELI)

The language and linguistics company TELI were commissioned by Microsoft and Bòrd na Gàidhlig to translate parts of Windows and Office into Gaelic. I was one of the advisers on this project, and for it created a small, cross-platform pan-dictionary search tool -- a useful example of how bespoke software is not just for large projects and larger budgets. This collaboration also led to my repackaging the TELI-produced Dearbhair spellchecker into a format suitable for Mac OS X.
Sabhal Mòr Ostaig (SMO)

For the past five years I've been teaching a module on the internet at SMO, the Gaelic-medium college in Sleat.
Stòrlann

I've reversioned flash-based interactive whiteboard charts for Stòrlann, the Gaelic educational-resources body, and spoken at their invitation at a conference on Gaelic IT terminology.
BBC

I occasionally contribute to various BBC Gaelic programmes on IT-related matters.