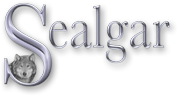 Sites
The carousel above shows a selection of the sites Sealgar has produced over the last few years. Click on any site to bring it to the front. Clicking on the front site will take you to it. (The carousel is a modified version of that developed by "Professor Cloud".)
Sites are generally built to the newer, better (if still slightly incomplete) HTML 5 standard.
Server-side processing (for things like forms, availability checkers, audio uploading and shopping baskets) is done with Java. Client-side technology is used where possible, using jQuery and similar libraries.
If you'd like to build a website, please get in touch for a no-obligation discussion, and some idea of costs.